4 TYPES OF CLAY = 25 FACE MASKS APPLICATIONS
Detoxify your skin with a super deep cleansing clay that will leave your skin feeling SO SMOOTH. Balance complexion, fight acne and breakouts, decrease appearance of pores, and adsorb excess oil.
100% Natural Clay without the nasties, no chemicals, no additives, no preservatives.
This clay multi pack includes 4 types of clay, kaolin, calcium bentonite, rhassoul and french green clay.
Christmas Special!! Get 2 Clay Mask Assortment Packs for $50 including shipping (within Canada) and taxes.
Weight
7.9 oz
Dimensions
1.14 × 5.14 × 8.13 in
Types of Clay Included

Calcium Bentonite (Montmorillonite): Origin US
Rhassoul (Ghassoul): Origin Morocco
Kaolin Clay: Origin France
French Green Clay: Origin France

Applications

25+ Face Masks Applications

Attributes

Cruelty Free, Vegan, 100% Natural, No Preservatives

Bonus

Face Mask Brush Included

Storage

Store in cool place, away from sunlight.

Disclaimer

EXTERNAL USE ONLY. Do not breathe dust. Discontinue if irritation occurs and consult physician. Always patch test before applying to face.

UPC/SKU

627987138764/fcm-assort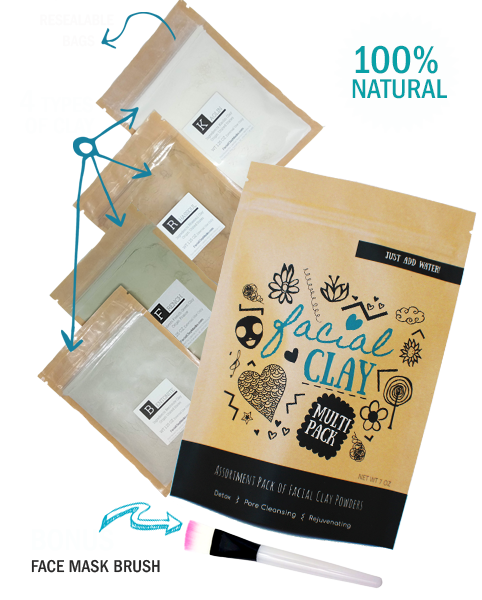 How to Use
To use, simply mix 1 ½ tsp of clay + 1 tsp of water. Each clay is different, so add more water till a smooth consistency. Apply approx 1/8″ layer to face for approx 5-10 minutes. For sensitive skin, apply for approx 5 minutes.
For Indian Healing Clay (Bentonite), mix with 1 ½ tsp of clay, 1 tsp of water, and 1 tsp of apple cider vinegar. Apple Cider Vinegar (ACV) with the "mother" is recommended.
Add more clay or water as required till a smooth consistency.
How long to Apply?
Always remove the mask BEFORE it dries. It is normal to experience redness for approx 30 minutes after application.