So excited that you are here and reading about facial clay masks. My name is Nadine, or you can call me Miss Facial Clay Masks. So welcome
Facial Clay Masks has come to fruition for a couple reasons. I have suffered from acne for years and integrating clay into my facial routine has made a dramatic difference for my skin. Second, while shopping for clay, not knowing anything about it, you want to try different types, but there was no sampler pack available on the market, till now.
Basically, I hit puberty and bam. My face was never the same again. But like many, after puberty, my acne never went away. And the acne scars from years of acne also didn't go away.
I suffered from acne, acne scars, massive pores, redness of the face and as life progresses, the introduction of fine lines and wrinkles.<
I finally find an answer to acne, and boom, just around the corner are the beginning of fine lines. Or as I like to call them, sun wrinkles, protect yourself from that sun!
I'm sure this story is not new to many of you reading this.
Enter Bentonite Clay. My first found love of clay.
This mask is super strong and just what my skin needed to clear up my acne, yes clear up my acne. Acne scars are not as easy as they don't just go away over a period of 1 to 2 weeks like acne does, but with consistent use, over a couple month period, my acne scars have also now disappeared.
After discovering this magical clay, I soon started discovering other types of clay and integrating those benefits into my face care routine. Bentonite is definitely the most well known clay on the market, but after discovering the other clays and their benefits, there are other contenders to be my favorite clay.
That's why I have created the Facial Clay Mask assortment pack, giving others an opportunity to try the most popular clay's on the market and find which clay they like the best and works the best for their skin.
Me at a christmas market with our products: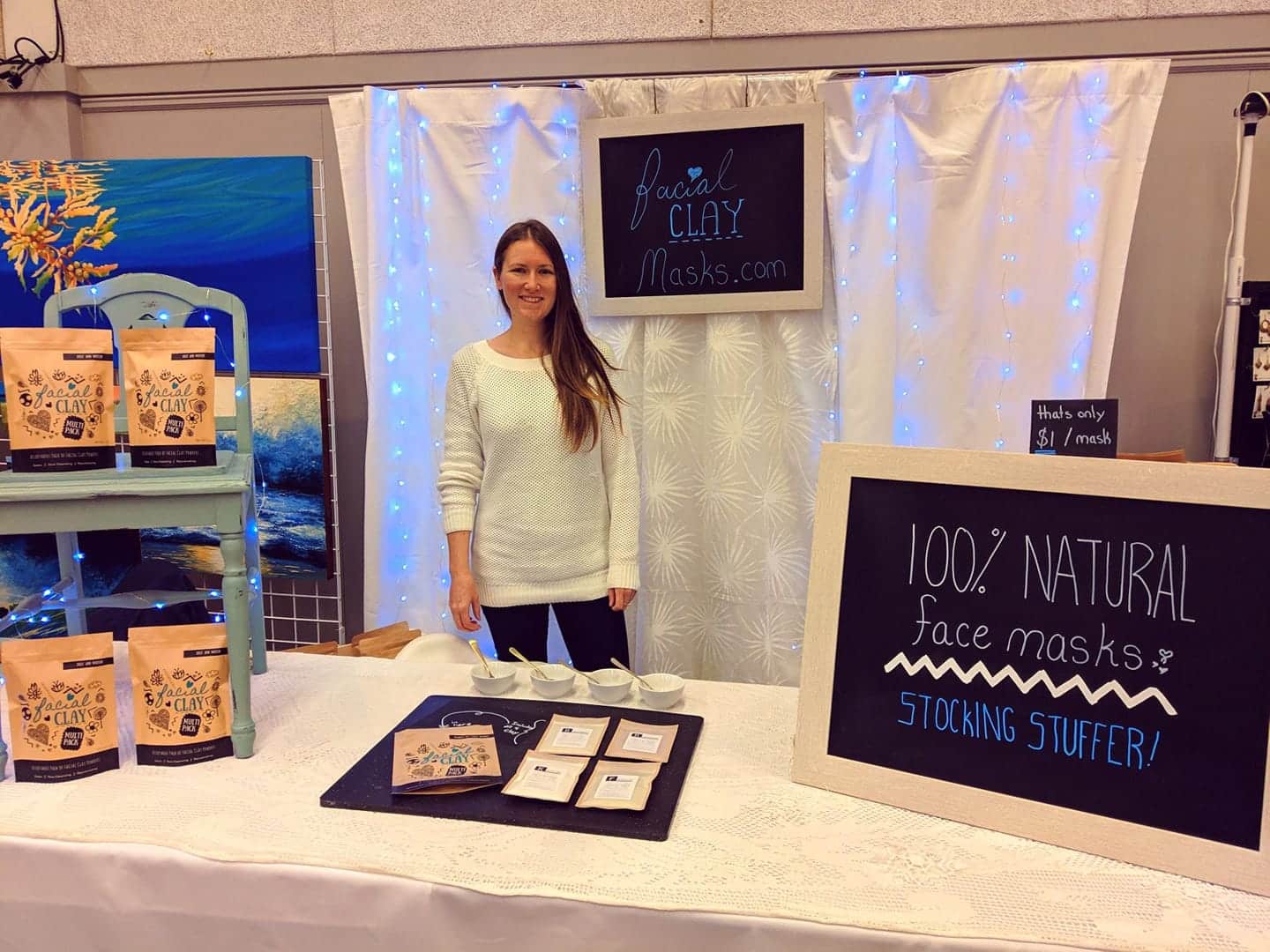 Each type of clay originates from different locations around the world, made of different mineral makeup and gives your skin different benefits.
French Green Clay tightens your skin and your pores, decreasing the size of your pores. Rhassoul Clay is wonderful for oily skin and over time improving your skins oil production. Kaolin Clay is a gentle clay that doesn't fully absorb into water leaving small particles that will give gently exfoliate your skin.
Bentonite clay, the king of clays, when mixed in the classic apple cider vinegar recipe is a super strong clay that acts fast and draws out impurities from your skin.
Clay Mask Recipe Lists:
These clays, are just not your average dirt. They are found in deposits deep under the surface. All of the clay have the ability to absorb or adsorb impurities from your skin. The clay is negative charged, so when activated with liquid it attracts and absorbs positive charged ions. These positive charge ions can include chemicals, heavy metals, toxins, and bacteria.
What I love most about this product is that's its natural. 100% natural. No additives, no preservatives.
I am going to be honest, I didn't know about the scientific reasons for why this clay worked so well on my skin, I just knew it worked. So after embarking on this journey of creating my very first product ever, I have fallen even more in love with the product as I go. If your nerdy like me, read this article about how the science of clay works.
A tich about me, I consider myself to be a laptop warrior. My history has been with websites, marketing and running businesses. I'm a girl who loves to travel, is a yoga teacher, live around the world and only needs her laptop. Together my boyfriend are super excited about sourcing the best clay, packaging the product ourself and changing the skin of women everywhere.
Today, our product is available on Amazon.com and Amazon.ca. Over the coming year I will be working on developing a recipe ebook and tons of information on our website.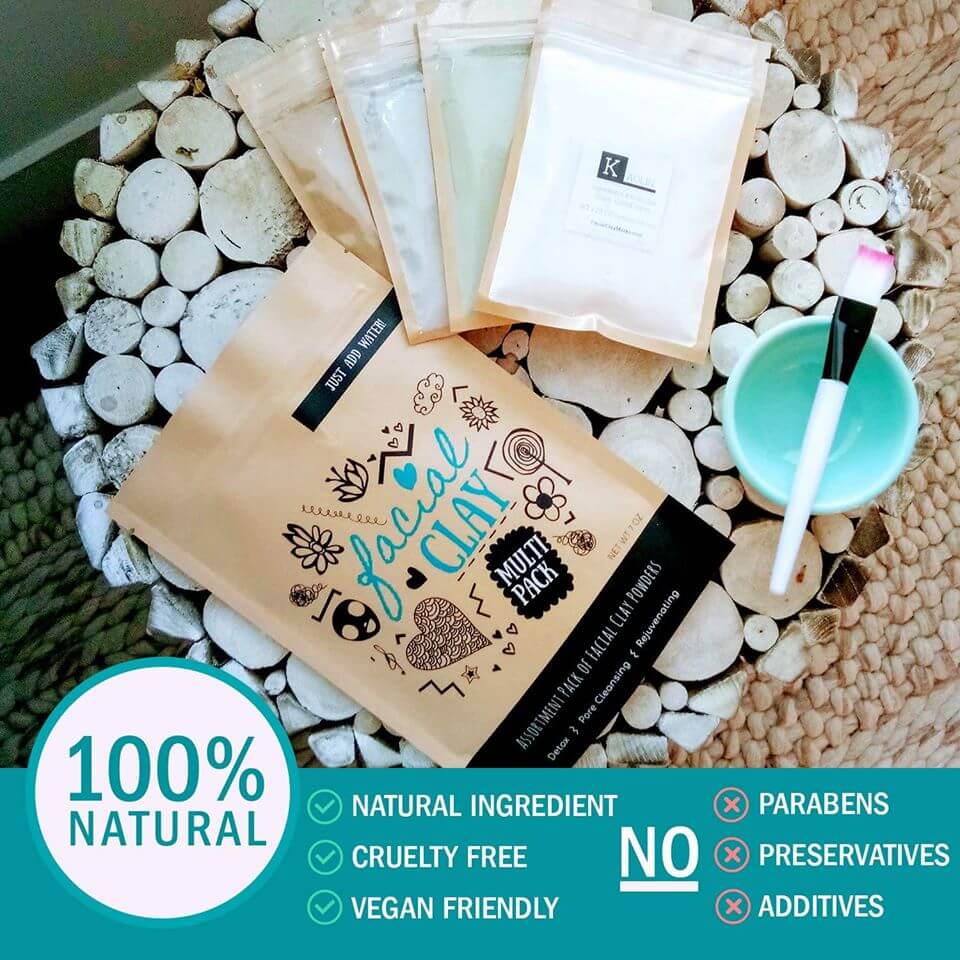 So from an entrepreneur, thanks for supporting a small business and reading about Facial Clay Masks. I hope you love the product and it does for you what it did for me!
Looking in the mirror will make you smile!
Lots of love and happiness,
Nadine, Miss Facial Clay Masks